Serene Lakes
Sunday, July 3rd
Serene Lakes 4th of July Celebrations are all based out of the SLOPA Beach at Lot 1. Events are all open to the public.
11am – SLOPA Parade
12pm – Chili Cook-Off
2pm – First Sailboat Race of the Year
Truckee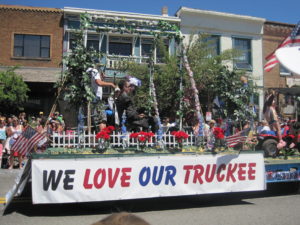 Firecracker Mile Fun Run
When:
 July 4, 2016
Time:
 Race starts 9:45am for the Elite wave, and 9:55am for the fun wave – just before the parade. Pick up bib & register at the Parking Lot across from U.S. Bank (10995 Donner Pass Road) on race morning from 8:00am – 9:30am.
Where:
 Starts on Donner Pass Road at U.S. Bank, and finishes at Truckee's train station in Downtown Truckee.
Cost:
 Pre-register for adults (19+) fun wave – $15; adults (19+) elite wave – $20 – or $10 more on race day. Pre-register for kids (18 & under) fun wave – $10; kids elite wave – $15, or $10 more on race day.
Dog Friendly Event:
 Leashed Dogs may run/walk along with you!
Fundraiser for:
 Auburn Ski Club's Youth and Junior Nordic Programs – proceeds go to help support low cost, quality nordic ski programs in the Tahoe and foothill region.
For additional information: 
http://www.truckeefunrun.com
 or (530) 426-3313
---
4th of July Parade
When: July 4, 2016
Time: Begins at 10:00am just east of the High School on Donner Pass Road into Downtown Truckee and ending around 12:00pm.
For more info: All registrations this year are being done online at:
Fourth of July parade registration
---
4th of July at West End Beach and the Truckee 4thof July Fireworks
When: July 4, 2016
Time: All day for the Fourth of July party at West End Beach, with the fireworks at dusk.  Come spend the day at the Beach, listen and dance to music, play games, eat BBQ, and watch the fireworks!
Where: West End Beach at Donner Lake,
Cost: $6.00 in advance only from Truckee Donner Recreation and Park District, starting May 2, 2016. (no tickets at the gate on July 4th) The West End Beach event is just for Truckee Residents and Homeowners, but the public can view the fireworks from anywhere around the lake.
For more info: http://www.tdrpd.org or (530) 582-7720