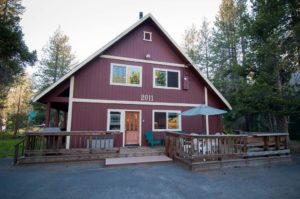 Soda Springs Cabin gives you the feeling of the 'Old Tahoe' without traffic. The beauty and solitude is breathtaking. It all happens here, right out your front door! Royal Gorge cross-country skiing right out your front door! Sugarbowl, Northstar, Squaw Valley and Alpine Meadows just minutes away.  No traffic jams, just peace and quiet in a pristine alpine setting.
Unbelievable access to an amazing amount of trails for the Royal Gorge Cross Country Skiing and Sugar Bowl Alpine Ski Areas. Minutes to Pacific Crest Trailhead, and centrally located to several major ski areas.
Conveniently located just five minutes off Highway 80. Fun for all generations. Easy access in and out of the cabin for grandma and grandpa (two steps). The Soda Springs Cabin is an A-frame home which has an open floor plan. Sleeps eight to ten people.
Downstairs is the fully-equipped kitchen and spacious living room area, with two bedrooms each has a king-size bed, one bath, laundry area and mud room. Upstairs are two more bedrooms each has a queen-size bed, one bath, and large open loft which has a queen-size sofa bed and overlooks open space. The loft has fiction books, music, TV, video/dvd player with boardgames/games and videos for all ages.
Whether you want to play or stay in and relax, our cabin has a tremendous amount to offer all families. Peaceful and serene as it sounds. Soda Springs has significant snow fall with year-round access 7000-feet elevation. Our lot is also unusually quiet, with a small stream across the road in front of us, and no houses to the immediate front or right of our cabin.
Come, stay, and experience the beauty of our Soda Springs Cabin in the Serene Lakes Area. With a BBQ grill, outdoor picnic table/chairs in the summer, canoe and beach toys, there is plenty to do for your friends and family! No matter how many times you come stay, there is always a place you have never seen before.
We are 1.5 blocks from the water/dock and 3 blocks from the old Lodge. 10 mins west from Donner Lake